Adding Cabins To Your Campground Can Create a Desirable Retreat For Guests
Professional grade, steel framed cabins and tiny homes ready for anyone to enjoy. Whether you are looking for a tiny home for your property, developing a tiny home community, or adding cabins to your campground, B&T Manufacturing has a solution sure to meet your needs. Pricing for single units starts at $31,500, with customization available upon request. Discounts applied for multiple units. Contact us today for a quote.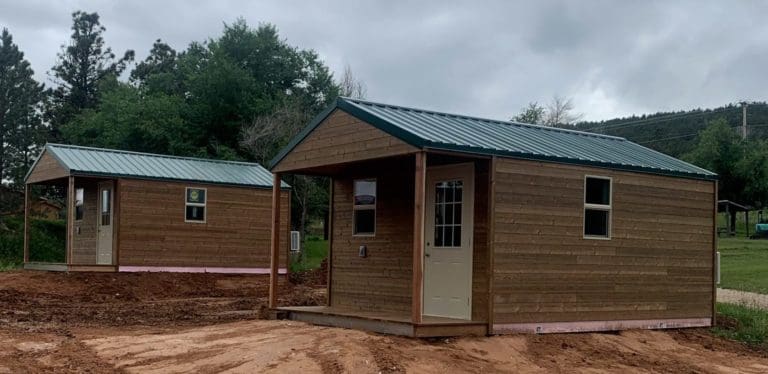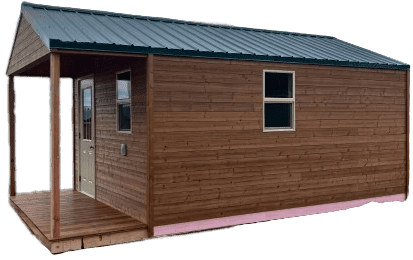 When it comes to creating an unforgettable camping experience, nothing beats the charm and coziness of a cabin. For campgrounds seeking a unique and practical solution, B & T Manufacturing's Cabins offer an ideal choice. In this blog post, we'll explore the exceptional features and benefits of B & T Manufacturing's Cabins as a solution for campgrounds, ensuring a memorable stay for nature enthusiasts and outdoor adventurers.
Benefits & Features Of Our Cabins
Compact and Efficient Design: B & T Manufacturing's one-room cabins are ingeniously designed to maximize space while maintaining a cozy and comfortable atmosphere. Offering multiple size options, these compact cabins ensure campgrounds can choose the perfect fit for their needs. 
3. Durability and Quality Construction: B & T Manufacturing's Cabins are engineered to withstand the test of time and endure harsh weather conditions, with a focus on the utmost durability and comfort. Built with a robust galvanized steel frame, these cabins are designed for sturdiness and structural integrity. The frame's construction is carefully planned to withstand heavy use, ensuring the cabins remain resilient and safe for campers. Completed with spray foam insulation, dual pane windows, and thermal wood siding, these cabins are built to ensure a comfortable experience for campers, no matter the weather conditions outside.
2. Customizable Options: Every campground has its unique desires for what their guests are looking to stay in. B & T Manufacturing understands this, offering customizable options for their cabins. With options for interior arrangement, siding and expandability, campgrounds can tailor the cabins to align with their size and appearance needs, bringing a campground's look together. 
4. Enhanced Guest Experience: B & T Manufacturing's Cabins provide campgrounds with the opportunity to elevate their guests' experience. These cozy cabins offer a comfortable retreat after a day of outdoor activities, allowing campers to relax and unwind in a private space. The thoughtfully designed interiors, combined with modern amenities, create a home-away-from-home ambiance. Campgrounds can offer a unique and memorable accommodation option, attracting campers seeking a more upscale and comfortable camping experience.
Create an extraordinary camping experience for your guests by adding cabins from B & T Manufacturings. Call B & T Manufacturing today at 605-176-7822 or visit their website at bandtmfg.com to find the perfect cabin solution for your campground. Your guests will thank you for it, and you'll create lasting memories that will keep them coming back year after year.